BETT Futures was buzzing with energy and new ideas. Throughout the week  we met hundreds of teachers and educators, and we were very lucky to be visited by these especially inspiring folk:
Mr Head
We follow him on Twitter and were pleased as punch when he popped by to take a snap with us.  He's one of the organisers of #PrimaryRocks, which we are big fans of.  Mr Head did a round up of his 10 best finds at BETT, and guess who made the list…!
Simon Hunt
We just love how creative Simon is, if you haven't heard of him then follow him on Facebook and check out – Teaching Ideas From the Front Line. Simon was super busy demonstrating on the Promethean stand but found the time to come and greet us in BETT Futures.  Shhh, don't tell Simon, but we thought he was rather outshone by his co presenter Jamie, an ace student at Tottington Primary! Check out Jamie's awesome interviews.
Sian Reeves
We were super excited to be visited by the lovely Sian Reeves, TV actor most famous for her roles in BBC drama Cutting It and playing the baddie in Emmerdale.  Sia was wowed by how much education is being transformed and even took part in one of our educational flash mobs! Sian told us,
Drama, and other creative forms of learning are being squeezed out of our schools, and given how much time children spend by themselves in front of the screen, resources like now>press>play are becoming ever more important. It's an innovative use of simple technology that can really open up new horizons for children
Sian Reeves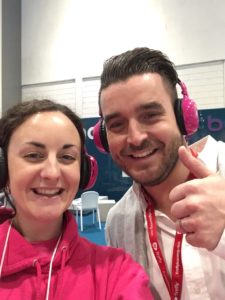 Mr P ICT
Lucky old us had another big Twitter hitter visit us at BETT Futures. If you don't already, find him and follow him on Twitter and Facebook.  He has fantastic ideas and his latest video had us chuckling in the office. Mr P ICT is going to be trialing now>press>play very soon, so watch out for his review.
But most importantly, we had daily visits from groups of primary school children, to name but a few – Bygrove, Mandeville, St Saviour's CE, Lanchester EP, Chisenhale and Birchwood. Each and every one of them brimming with excitement about the exhibitors stands and technology available.  They wanted each and every robot, screen, headphone they could learn with! As one child said "This is how learning should be." We couldn't have said it better.
Thank you BETT Show – here's to next year!