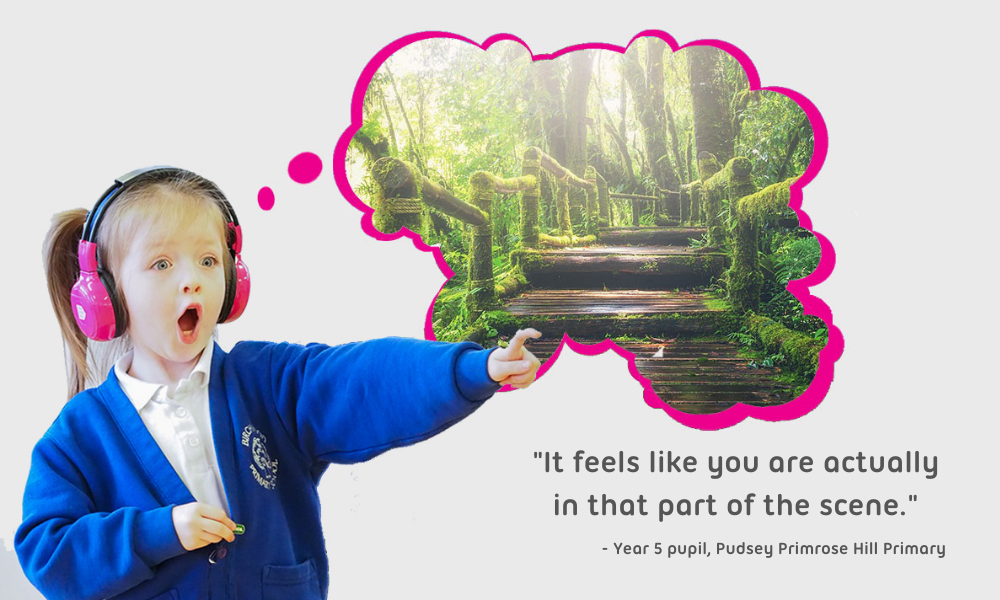 How to apply this job
Please complete the task which you will find here. Send your completed task, CV and short covering letter (max. 250 words) to oscar@nowpressplay.co.uk with the subject 'Resource Writer' by 11pm on 12th February. Please specify in your letter whether you prefer to write for Key Stage 1 or 2.
About now>press>play
now>press>play is a multi award-winning social enterprise and one of the most exciting and ambitious companies in the edtech sector. We currently have over 380 schools subscribed, reaching over 90,000 children. Our mission is to make the curriculum accessible for all children, regardless of background or academic ability.
We create immersive audio resources that engage primary school children in the curriculum through emotion, imagination and movement. In a now>press>play Experience every child is given a pair of wireless headphones. Immersed in sound, they become the main character in a story, meeting people, discovering places and solving problems on an educational adventure they'll never forget.
Description of job
After a now>press>play Experience, schoolteachers typically follow up in the classroom with our resources, in order to re-cap learning and deliver literacy connected to the Experience. We are looking for current or former teachers to create and update our Key Stage 1 and 2 literacy resources.
The work will mainly take place February to early April, and a single writer will do at least 4 full days' work. While this can obviously be fitted around other employment, candidates with full-time jobs should consider their time. All work will be done remotely. We expect there to be additional work in future for the successful candidates.
Responsibilities:
The majority of the work is creating SATs-style Reading Comprehensions, connected to the Experience. This involves adapting a section of the script (chosen by you) into novelistic prose style, and then writing SATs-style questions for comprehension. This is also the task you will complete for this application.

Expanding the Experience's glossary (a list of useful proper nouns, nouns, verbs and adjectives).

Updating the Writing Opportunities, and creating some from scratch. We always include several writing suggestions, e.g. 'Write a persuasive letter to the government, arguing for funding for Darwin's trip to…').

Delivering these to a strict deadline.
Candidates must have:
Minimum 3 years' experience teaching in Key Stage 1 or 2 of a UK state primary school (in last 8 years)

Literacy coordinator or specialist preferred

Excellent knowledge of current SATs literacy papers (2016 until now)

Experience of resource creation (outside of your own school preferred, though not essential)

Ability in following house-style (both in terms of style and format), working in Word and PowerPoint
The literacy resources for one Experience are paid at around £200 (depending on the Experience).
The task
Your task is to create a (reduced) Reading Comprehension for our Ancient Egypt Experience. Here is how: 
Read i. Evolution Script (and skim ii. Evolution Reading Comp sample 

for context). 

You will create 4 questions on 1 slide for Ancient Egypt (N.B. the Evolution sample we provided is the full 9 questions over 3 slides. Your task is shorter). Please use iv. Ancient Egypt Reading Comp YOUR NAME

as your template, replacing the capital letters with your name. Please follow our formatting. 

Read the iii. Ancient Egypt Script

 and choose a section to adapt for the Reading Comprehension. 

Just like Evolution, please adapt it to a novelistic style, in prose. Your prose will be over just one slide (max. 11 lines). Your slide doesn't need to cover the entire script – you decide how much to write about. 

Having written the prose, create 4 SATs-style questions underneath. We are looking for good knowledge of SATs so include a variety of questions. If you wish to access past SATs papers, we have collated some

here

. 
Please return your PowerPoint, CV and covering letter to oscar@nowpressplay.co.uk by 11pm on 12th February.