Bournes Green Junior School: WW1 Case Study
Bournes Green Junior School has been using now>press>play for the last 3 years and has even made and recorded their own Experience! Find out from Deputy Headteacher Hannah Reddihough why they use it to build discussion skills and ignite imaginations.
As a bonus she's also generously shared a scheme of work for WW1 Remembrance week!
The Headteacher and I first came across now>press>play at the Education Show 2017. Straight away we were drawn in by the engaging and immersive nature of the experiences and by the team themselves, who were clearly very passionate about the product and very clear on the benefits of using the technology in school. We were sold immediately and were excited to get back to school to see it in action in our school setting.
When we introduced now>press>play to the teaching team, they too were sold. The quality of the resources alongside each experience was clear and teachers were keen to think of a variety of alternative uses for the headphones e.g. immersive music for descriptive writing and teachers/pupils creating their own now>press>play scripts and experiences.
There have been many memorable curriculum experiences that have been enhanced through the medium of now>press>play. For the WW1 Centenary, we created our own now>press>play experiences for the children, which also included building underground 'tunnels' in the hall for children to escape to during a Blitz simulation experience. We also used now>press>play for a variety of other curriculum events, for example Chinese New Year, Unique Week and also to create our own experiences tailored to our curriculum topics.
My husband and I created the WW1 Centenary at home (because we are the coolest!) He's got some basic editing software so we basically created a narrative around an air raid in the London underground. The PP below shows the structure of how we taught the week leading up to the lesson. Elsie and Elizabeth; the siblings in the story, were real people so that added a certain sense of realism to the experience.
Listen to Hannah and her husband's superb WW1 Air Raid Experience!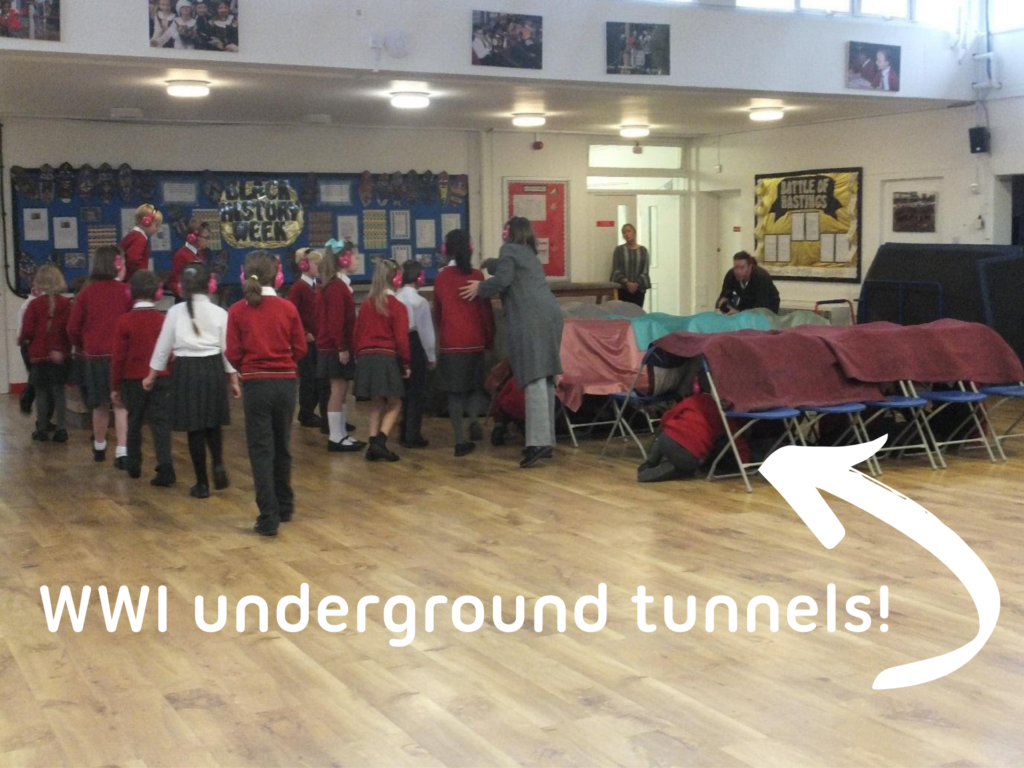 During lockdown, we made now>press>play available for children to access at home by making use of the At Home Resources. We had some positive feedback from parents on this, who found the resource a good outlet for creativity alongside their other Home Learning.
We have made use of many of the now>press>play PSHE experiences and find them to be a great tool for inspiring discussion and allowing children to empathise with others. We have found the e-safety experiences to be particularly powerful.
The children immerse themselves in the experience they are listening to and we have found that even the less confident children 'forget' where they are and join in wonderfully. We would definitely say that the children develop a much better understanding of the period in time related to the experience and the knowledge associated with a given topic. We found that the children lost their inhibitions and those who might have felt self-conscious about taking part really got stuck in. The children always cheer when they see now>press>play on the timetable.
We have found that children are more willing to join in with discussions as they have more ideas/feelings related to the topic or experience. All children really enjoy the experiences, but we have found in particular low ability children who sometimes found it hard to come up with ideas or visualize different settings or eras were aided by the drama aspect and audio stimulus.
We are excited to continue to work with children and staff at Bournes Green and are looking forward to continuing to support their learning in the future.